Blessings in a Backpack SWFL Strengthens its Presence in the Community with Advisory Board Additions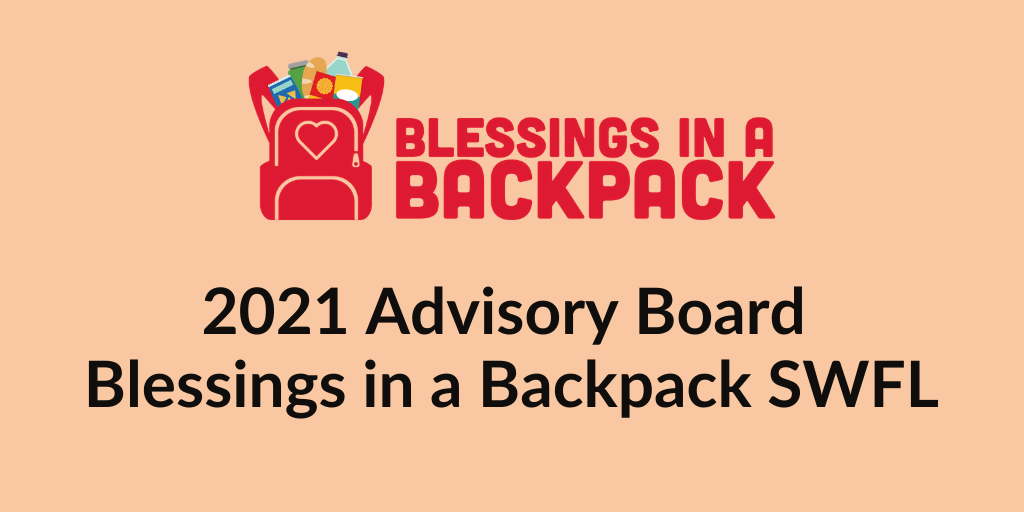 As the need to fight childhood hunger grows in our community due to hardships brought on by COVID-19, Blessings in a Backpack SWFL recently strengthened its base by adding several key community leaders to its advisory board and naming a new chair.
The 2021 Advisory Board for Blessings in a Backpack represents a powerful mix of professional and philanthropic experience coming together in an effort to feed the 60,000 local elementary school students who struggle to get the food they need over the weekend.
"Our board recognizes the struggles that many families are going through this year with the pandemic and they are stepping up to help solve the food insufficiency issue many of our school children are dealing with every day," said Cecilia St. Arnold, executive director for Blessings in a Backpack of Southwest Florida.
"Many children right here in Lee and Collier counties are going hungry, even more so in 2020 because of COVID-19. With the assistance and support of this board we will continue to make it our mission to raise the necessary funds to feed these children each year," added Scott Fischer, founder of Blessings in a Backpack of Southwest Florida and CEO of Scott Fischer Enterprises. 
The following advisory board members will help the organization carry out its mission through fundraising, event planning, community outreach, and more:
Connie Ramos-Williams, president and chief marketing officer, CONRIC PR & Marketing. Ramos-Williams is chairman of the Blessings in a Backpack Advisory Board. She also serves on the boards of the Southwest Regional Manufacturers Association, Multicultural Centre of SWFL, Greater Fort Myers Chamber, and Above Board Chamber of Florida.
Carl Barraco Jr., project engineer/project manager, Barraco and Associates, Inc.
Danielle Beach, recruiting director, Alliance Financial Group.
Guy Clark, Sizzle SWFL.
LaRae Davenport, executive director, American Subcontractors Association – SWFL.  Davenport created, planned, and executed the First Annual Clays Shoot Fundraiser, netting a profit for the association and donating           $1500 to Habitat for Humanity in Lee County.
Rafael Feliciano, co-founder and CEO, Food Idea Group.
Scott Fischer, founder and CEO of Scott Fischer Enterprises. Fischer served nine years as chairman of the board of Blessings in a Backpack and has coordinated with the Southwest Florida Community Foundation, the March of Dimes, and Junior Achievement.
Rudi Hamer, assistant vice president and commercial relationship manager, Sanibel Captiva Community Bank. Hamer has more than 28 years of banking experience working in the commercial and residential lending arena.
Lynne Kimmich, financial representative, Alliance Financial Group. Kimmich organizes the annual Girls Going Places Entrepreneurship Conference at Florida Gulf Coast University.
Travis Merrick, Fort Myers branch manager, GFA International. Merrick is a member of the Lee County Building Industry Association and the Cape Coral Construction Industry Association.
Jim Parker, retired, Secret Service.
Mike Price, director-land division, LandQwest.
Chris Rakos, president and chief operating officer, Colonial Roofing. Rakos is a past president of the SWFL Roofing Contractors Association and remains on the board of that organization.
Nathan Shaw, realtor, Premier Realty. He has more than 25 years of experience in real estate with a background in business and law.